Jakarta Selatan, 17 Agustus 2012
Marhaban Jawara Village Jagakarsa
A new Jawara Village was established in Jagakarsa. It is only about four kilometers from another Jawara Village, Tanah Baru, Depok.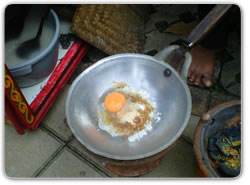 Before other participants arrived Bang Iwan seemed ready to sell his product, namely Egg Crust (Kerak Telor), old Batavia traditional foods. He starts fire his stove with coconut shell charcoal. A dozen of chicken eggs and duck eggs seem ready to be processed, before the buyers come. He normally sells his product near Ragunan Zoo, Jakarta. It was there that he became acquainted with Dinar and Dirham through Veranita Dwiputri, a Jawara (Dinar and Dirham Users Network of Nusantara) member of South Jakarta, who was offering him to pay Dirham for his crust egg, then in early July 2012.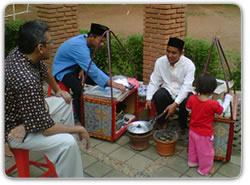 Mrs. Veranita invited Bang Iwan to join Jawara, and it was that evening, Friday, July 27, 2012, Bang Iwan attended the event 'Jawara Jagakarsa Gathering'. Present with him that afternoon, about 50 people, including some young children. In the gathering Mr. Mico Chandra the Coordinator of Jawara Chapter South Jakarta shared his trading experience with Dinar and Dirham to the new members.

'My car is always fully loaded with merchandise (cloth and garments), wherever there is a Market Day Festival I participated. This morning , Alhamdulillah, I got more than 22 Dirhams,' he said the results from selling in Market Day Festival, Pondok Indah, during the day.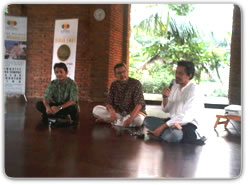 Mr. Abdarrahman Rachadi, Chairman of the Jawara, welcomed the traders in Jagakarsa to join in. Thanks to the hard work of Mrs. Veranita there are now dozens of merchants receiving Dinar and Dirham in Jagakarsa region. The gathering that evening was also the inauguration of Jawara Village, Jagakarsa, South Jakarta. In this region, in addition to the above mentioned Bang Iwan, there is also scarf vendors, herbal shops, food vendors, a minimarket SAI Mart, school (Sekolah Alam Indonesia), architectural bureaus, etc. Totally more than 25 shops in Jagakarsa are now accepting Dinar and Dirham.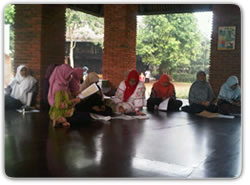 Jagakarsa urban village itself is situated not far from the other Jawara Village, Tanah Baru, Depok, which had earlier become the village of Jawara. The distance is about 4 Km only. Every Muslim can initiate the formation of the Jawara Village in their respective areas. Just gather local traders, transact with the Dinar and Dirham every time, and be it a Jawara Village.
And, when of truth comes, falsehood will perish.
(001)
Dibaca : 1012 kali



lainnya
Index kategori : Berita
© WAKALA INDUK NUSANTARA DISCLAIMER SITEMAP SITE INFO